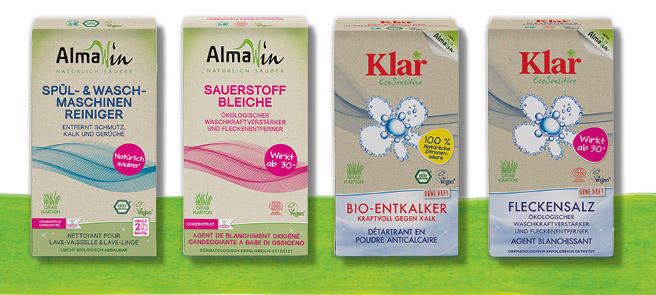 Packaging is getting even greener!
You can see and even smell it.
AlmaWin is actively committed to an intact environment, for which sustainable packaging plays an important role. Our latest innovation is four resource-saving, environmentally friendly folding boxes made of grass paper. The advantages over virgin fiber and also recycled cardboard are obvious: less water consumption, energy & CO² savings and fewer process chemicals. And apart from that, you hold a whiff of green meadow in your hand and can even smell the hay.
Grass cardbord...
…preserves our water
A lot of water is needed for paper production. A full 6,000 liters of water are needed to produce one ton of paper from pulp (wood). Hard to believe but true: with grass paper it is just 2 liters! In addition, the water is much less polluted, since fewer process chemicals are needed in the processing of grass cardboard.
…reduces energy consumption & CO² emissions
Our grass paper also scores points in terms of energy consumption. Only one tenth of the energy required for wood-based paper is used in production. Due to the regional extraction of the grass fibers and the associated short transport routes, significantly less CO² is emitted. And in addition, the rapidly regrowing raw material grass ensures good CO² compensation.
…is good for our insect world
Our grass cardboard consists of 30% grass and 70% recycled cardboard. The sun-dried grass comes from agriculturally not used compensation areas. These biotopes are mowed late in the year and the grass is then too woody to be suitable as fodder. So we are not taking away the cows' feed, but offering insects and bees a much-needed habitat until autumn.
…is 100% recyclable
Our folding boxes made of grass cardboard can simply be put in the waste paper recycling garbage can, just like conventional cardboard boxes, and are 100% recyclable. They can even be put on the compost heap, because they are printed with water-based, mineral oil-free inks that are harmless to health.
The bottom line is an eco-balance that is quite respectable! And we are happy about our four new environmental heroes in the AlmaWin range.
Now already in the grass cardboard box: AlmaWin Dishwasher and Washing Machine Cleaner, Klar Lime Removing Powder, AlmaWin Oxygen Bleach, Klar Stain Remover